Luxury Mountain Home Design
KH Webb Architects has a two-decade heritage of creating contemporary yet timeless mountain homes. Our residential designs prioritize sustainability without sacrificing luxe features, customized floor plans, and smart integrations. Explore our luxury home designs inspired by the warm serenity of a rustic mountainside lodge when you're ready to invest in your very own Vail-area getaway.
See the Portfolio
When you browse our portfolio of custom homes, you'll find that we draw from the surrounding landscape for an effortlessly organic aesthetic. We strive for high-end practicality and design residences with luxurious touches that meld with the way you live. Each home has a personalized charm that comes from the close connection we build with our clients during the design and construction process. Below we detail a few of our mountain house projects.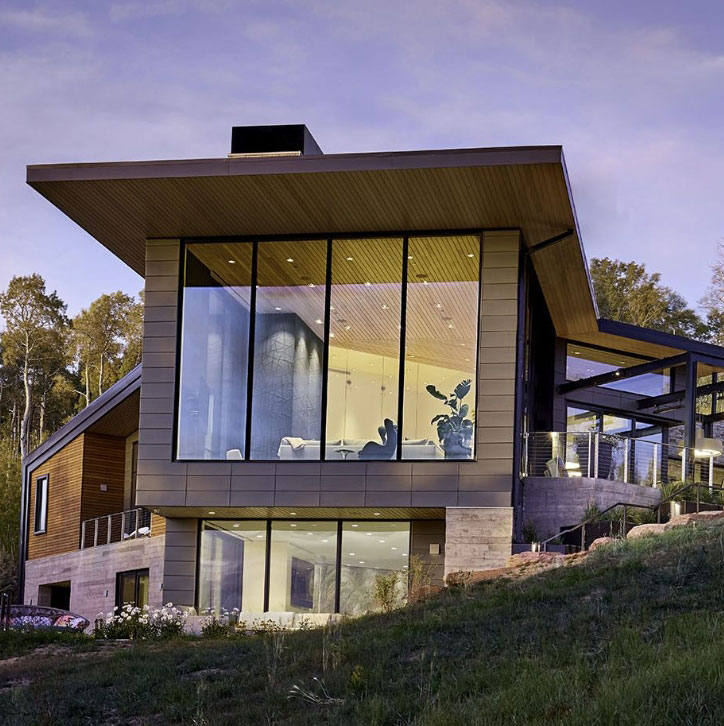 Wildrose
Our Wildrose luxury residence received the 2020 Home of the Year award from Colorado Homes & Lifestyles magazine. This inviting four-bedroom getaway epitomizes comfortable single-floor living with a private master suite and cozy rec room. Special doors create a floating sensation as the 5,000-square-foot home feels truly integrated with its Rocky Mountain surroundings. Sustainable concrete siding seamlessly mimics the warmth and texture of real wood. Smart interior and exterior layout design create separation and intimacy without sacrificing generous light and space in this luxury home design.
See The Project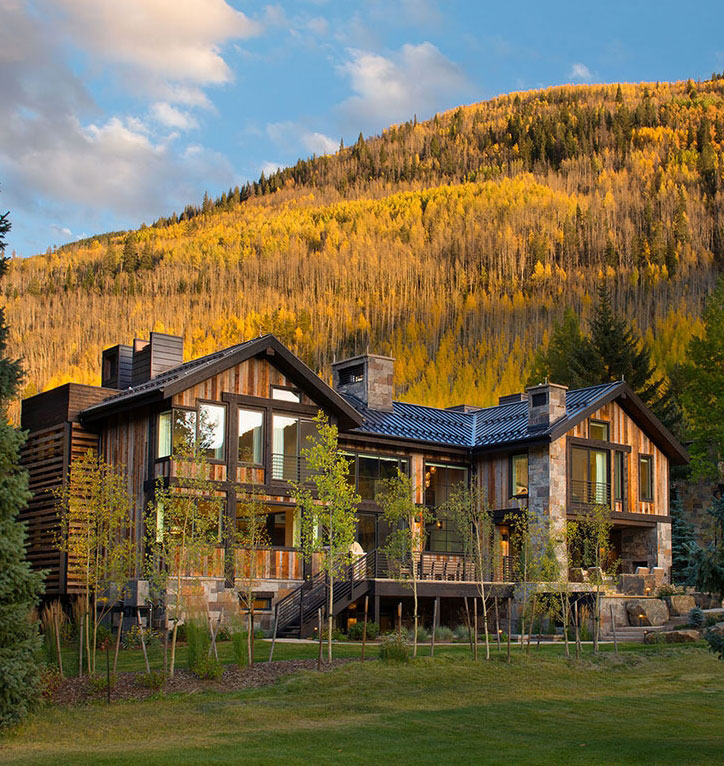 Ptarmigan House
Another custom mountain residence, the Ptarmigan House, is a multigenerational retreat that combines modern amenities with rustic charm. This home offers private spaces for quiet reflection and expansive rooms for family dinners, game nights, and entertaining. Dramatic windows make the most of the mountain and Vail Golf Course views from this prime locale. Standout features include the centerpiece fireplace, pub, and library. The family added personal touches to celebrate their past and present generations to make this truly a one-of-a-kind retreat.
See The Project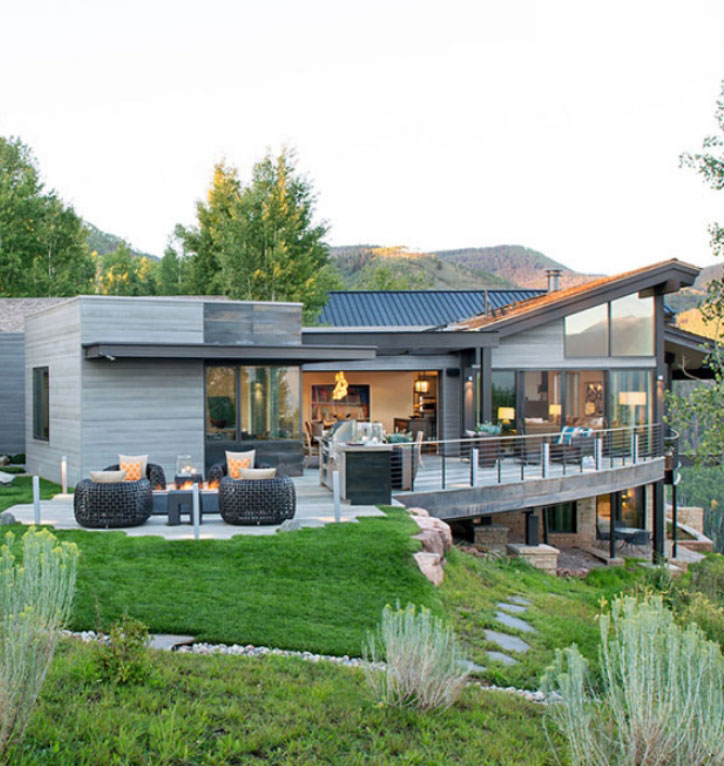 Mountain Star
With Mountain Star, a home redesign for a longtime client, we added 2,400 square feet and changed the layout of the existing footprint. The finished space in nearby Avon optimizes the breathtaking mountain views while adding features and finishes that highlight the owner's personal tastes. As desired, we blended the addition seamlessly with the original home and matched the existing stone and cedar veneer while adding sleek zinc paneling. The interior also relies on sustainable materials, such as the kitchen's concrete counters and walnut flooring panels. Curated art adds the finishing touches to this true collaboration.
See The Project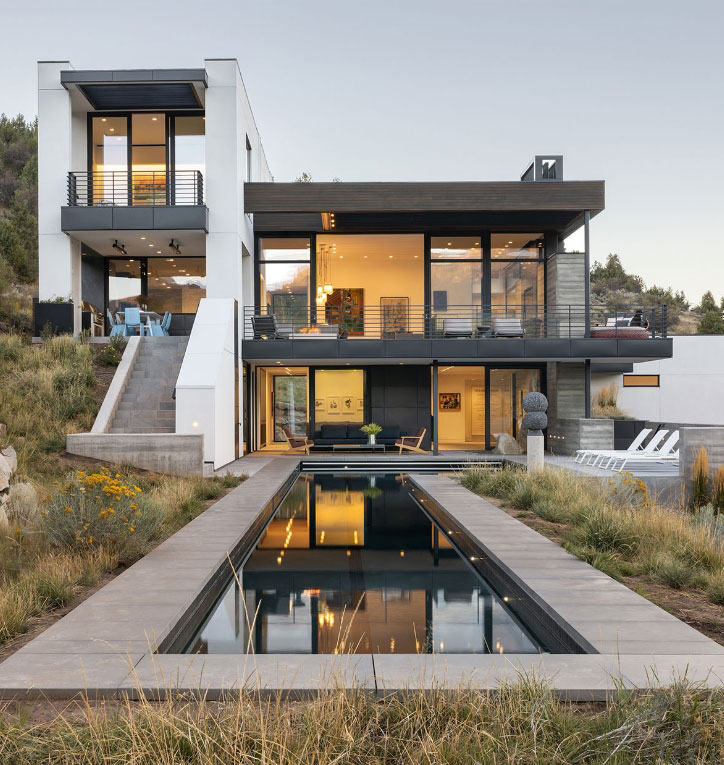 Polarstar
Another showcase home, Polarstar, was designed for an active family who loves to have fun and entertain. This space is centered around the chef's kitchen, the curated art collection, and of course, the exceptional views. This design illustrates our ability to make use of challenging terrain situated on a rocky, 10-acre mountain site.
See The Project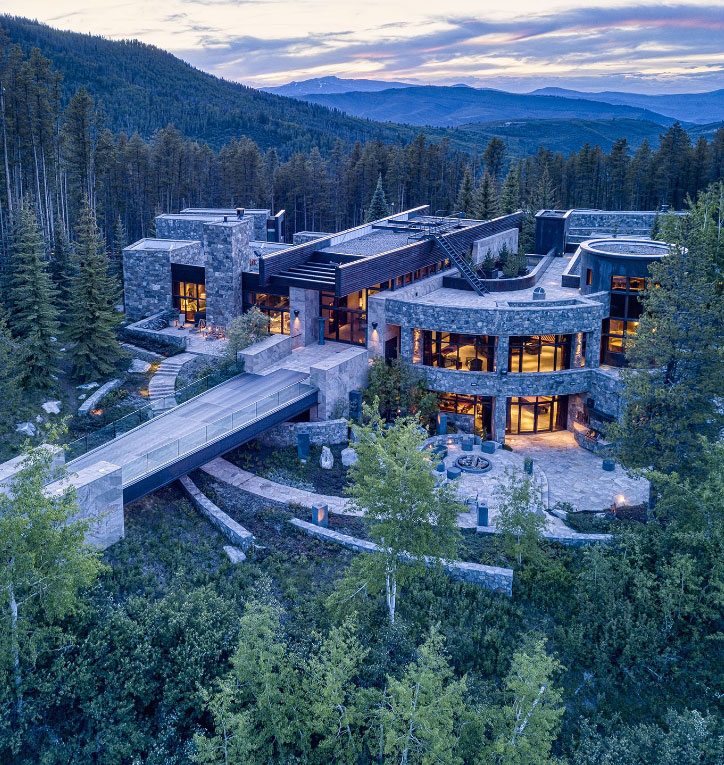 Casteel Creek Retreat
For Casteel Creek Retreat, we had the pleasure of building a mountain home design for a property on more than 400 acres. In this case, we wanted to create an estate with a homey, intimate feeling despite its grandeur and scale. The finished layout was envisioned as a journey through the home that adds a sense of harmony, preventing the many rooms from feeling disjointed and separate from one another. From the dramatic entry bridge that takes advantage of the views, visitors ascend stairs to the courtyard. Despite the home's size, its position within the mountain creates the illusion of one-level living that's so popular for rustic retreats.
We showcased local natural materials such as stone, copper, and glass from the grand entry hall throughout the interior. Casteel Creek features eight bedrooms, each with its own en suite bath, as well as a hot tub, swimming pool, and home theater. This property illustrates the value of close collaboration with our clients to fulfill their visions of splendid mountain house design.
See The Project
Our experienced team of architects can help bring your long-imagined mountain retreat to life before your very eyes. Mountain architecture borrows from an array of styles from classic to modern, sleek to ornate. However, these homes share common characteristics such as natural exteriors made from wood and stone, high ceilings with exposed beams, large windows to take advantage of the unmatched views, incorporation of local materials, expansive decks and porches, and spacious open floor plans. Thoughtful yet low-maintenance outdoor living spaces complete the resort-style experience you'll enjoy right at home.
Living in Vail provides the best of both worlds, combining a small-town community vibe with urban amenities and a walkable landscape. This mountain enclave is home to fewer than 6,000 full-time residents. If you're new to Vail, expect a warm welcome from a place that residents and visitors call magical. If you're already familiar with the area, it likely has you under its spell.
Why Choose KH Webb Architects for Your Luxury Home
As a small team of architects, we provide the partnership and collaboration of a boutique firm as well as the knowledge and resources born from designing spaces in Vail and surrounding communities since 1999. Our mountain home designs deliver unmatched luxury that harnesses the deceptive power of simple elegance. Each residence honors its setting with attention to the adjacent communities and ecosystems. In addition to new construction homes, we specialize in contemporary transformations for the 70s and 80s mountain lodge mainstays.
Contact KH Webb Architects today for your luxury mountain home consultation.
Contact Us